Suffering from post-covid hair fall? Here are some Expert-backed tips
Testing negative after a Covid-19 infection is a huge battle won against the deadly virus but is often accompanied by a strange set of troubles. Due to the virus's massive strain on both physical and mental well-being, many people experience a slew of post-Covid complications that hinder complete recovery for a long time. While issues such as cough, fatigue, poor exercise tolerance, skin allergies, dry eyes, shortness of breath etc. have been some of the commonly reported complications, the second wave of the pandemic saw a staggering rise in the number of patients complaining of hair loss post Covid-19.
Now, many of us experience hair fall on a daily basis due to various factors like poor diet, lack of a proper hair care routine, and stress, but post-Covid hair fall can be quite different and may last up to 4 months, according to health experts. Often referred to as Telogen effluvium, post-Covid hair loss is majorly due to stress, nutritional deficiency like reduced vitamin D and B12 levels, and inflammatory reactions. Unlike regular hair fall where an individual might lose up to 100 strands of hair per day, post-Covid hair fall can lead to a loss of 300-400 strands daily. So, what is the best solution for those experiencing this frustrating condition? Basis preliminary research, we found that coconut-based hair oils are a miracle solution that can not only effectively control post-Covid hair fall but also induce limitless heath to one's locks. Let's explain it further.

Introducing coconut-based hair oils to one's post-Covid haircare routine

Good hair health is often dependent on one's diet and hair care routine. Post-Covid hair shedding, being an extreme condition, therefore requires additional care. Following a balanced diet and incorporating nutrients is an expert-approved solution in this regard. When it comes to external hair care, one of the most talked-about miracle solution is coconut-based hair oil.
It is no secret that coconut has been one of the most iconic ingredients in our hair care routine for quite a long time. Coconut-based hair oil champis were a Sunday ritual that most of us grew up with and luckily for some, the practice continues. It is recommended by dermatologists as well as hair stylists with equal zeal whenever we complain of issues such as hair fall, dryness, or frizz. Even in the case of post-Covid hair fall, coconut-based hair oil works quite similarly. Packed with lauric acid and medium-chain triglycerides which work wonders for the hair, coconut-based hair oil deep conditions the hair, providing ample moisture and nourishment. Coconut-based hair oil helps create external and internal protective layers, which enables the hair to retain moisture, thus preventing dryness and resulting in smooth and frizz-free locks. Its deep penetration properties prevent hair loss by delving into the hair shaft to reduce protein loss and eliminate hair breakage. Coconut-based hair oil can also be applied on the scalp to enable hair growth. It's moisturizing properties also effectively help tackle dandruff, split ends and even damage caused by hair styling!
How to use coconut-based hair oil?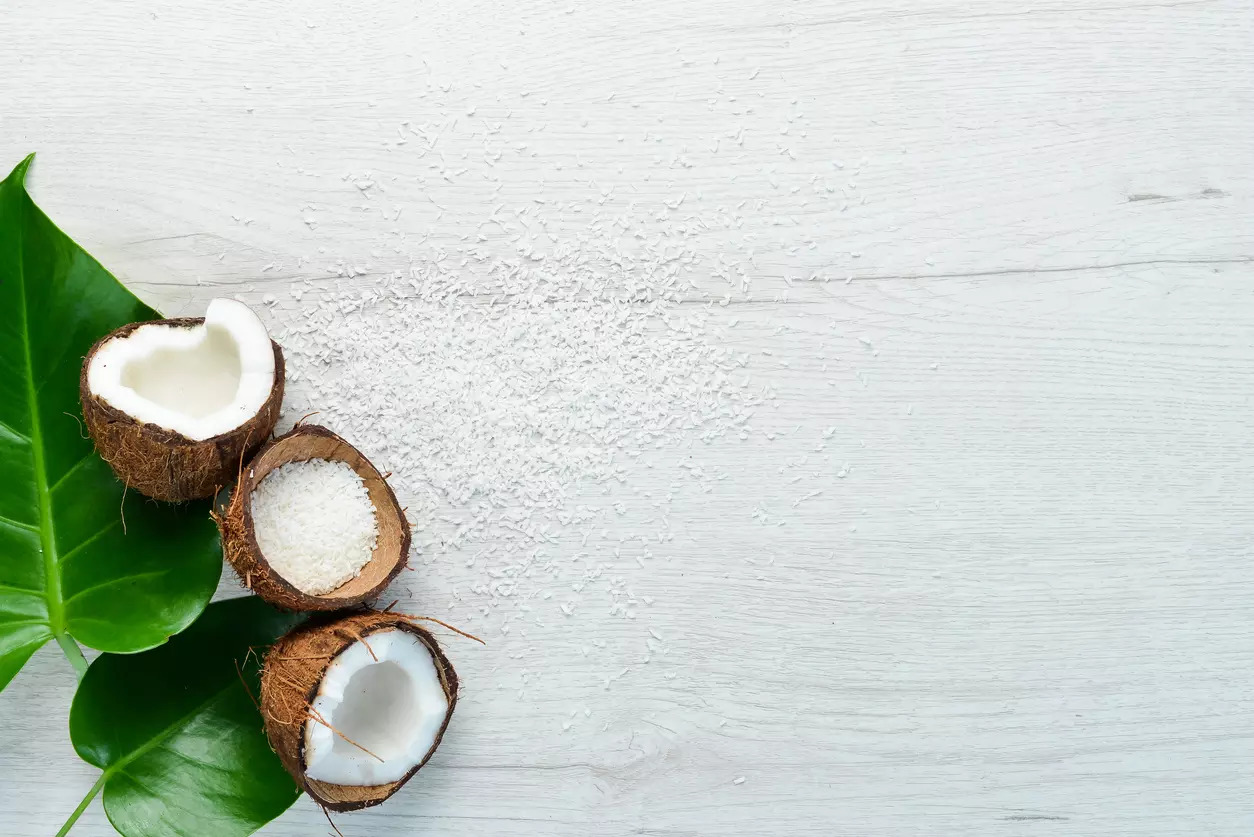 The good news is that there are a lot of coconut-based hair oils in the market that can be easily added to our hair care routine to fight Covid related hair issues. All we need to do is regularize the use of these oils to provide much-needed nourishment to our locks at least 2-3 times a week. The addition of a small amount of coconut-based hair oil to your daily routine can help provide stunning results apart from helping curb Covid-related hair shedding. If you are wondering how to start, here are a few ways to do it:
● Add coconut-based hair oil to your hair masks and apply them 2-3 times a week for 30-40 minutes before your hair wash
● Leave coconut -based hair oil in your hair and scalp overnight
● Opt for coconut-based hair oil champis ● Moisturize your locks by applying a smidge of coconut-based hair oil after a hair wash to retain moisture.
Combatting hair fall with the regular use of coconut-based hair oils
Whether it is post-Covid hair shedding or everyday hair fall, the regular use of coconut-based hair oils can be extremely beneficial to make your hair strong. This is because coconut-based hair oil has the ability to reduce protein loss- one of the biggest reasons for hair fall and breakage. Now, how does that work- you might wonder. Coconut-based hair oil comes with high penetrating powers, which means that they are easily absorbed by our hair shafts. This coats the hair with a protective shield that prevents moisture loss when we wash our hair or expose it to various chemicals, preventing damage and breakage. This is largely because of the presence of straight-chain MCTs in coconut-based hair oil which provides dual benefits. For one, they penetrate into the hair easily and help strengthen the lipid structure. And secondly, they provide a protective shield against external agents.
Another reason why coconut-based hair oil works against hair fall is because of its rich medium-chain triglycerides (MCT) content. This gives a healthy coating to the hair, protecting the hair and the scalp from environmental factors, heat and styling products and other pollutants. Massaging the scalp with coconut-based hair oil also balances the presence of good bacteria on the scalp and enhances blood circulation. All these factors work together to protect, repair, and nourish the hair.
The presence of Lauric Acid also brings about its own set of benefits. It has unique coconut fatty acid with anti-microbial, anti-inflammatory and antioxidative properties. The Lauric Acid acts against bacterial, inflammatory problems that inhibit hair growth. This means that along with the prevention of hair fall, coconut-based hair oils also initiate regrowth of hair. Certain anti-fungal properties in this oil also act against dandruff- another big cause for hair fall.
With so many benefits and more, it is pretty evident that coconut-based hair oil is a do-it-all miracle oil for the hair. In fact, it can be rightly termed as a sebum that protects the hair inside-out. It provides 360-degree protection to the hair strands, the scalp, the root, and the ends, providing nourishment, hair fall control and hair growth. In fact, this decades-old principle of applying coconut-based hair oil provides a host of remedies against various hair troubles. Coconut with its anti-microbial, anti-bacterial and emollient properties it is the secret beauty ingredient that can help you treat your issues naturally. In the case of post-Covid hair fall, it has helped many people effectively combat the situation. All you need to do is use coconut-based hair oil in a hair mask, or directly for hair massages to provide deep nourishment. If you like to style your hair but have been apprehensive because of the hair loss post-Covid, this coconut basedcoconut-based hair oil can be used before your styling regime to lock your hair with a coat of strength for minimized hair damage. It's time you bid goodbye to all your hair troubles!
Disclaimer: This article has been produced on behalf of Marico by Times Internet's Spotlight team.
According to THE TIMES OF INDIA.
Source: https://timesofindia.indiatimes.com/spotlight/suffering-from-post-covid-hair-fall-here-are-some-expert-backed-tips/articleshow/86455480.cms